Premium Outdoor Living Contractor Kelowna, BC
You step outside onto your patio, the sun is shining, and the birds are chirping. You can't help but feel a sense of peace and tranquility as you take in the beauty of your outdoor space. But something's missing, you think to yourself. That's when it hits you – you need an outdoor kitchen!
Kelowna Pro Masonry is the go-to expert for creating the perfect outdoor kitchen. Imagine cooking up a storm on your stainless steel grill, with all the counter space you could ever need. You'll be able to entertain friends and family with ease, with a built-in bar and seating area.
But it's not just about the functionality, It's also about the aesthetic. Kelowna Pro Masonry can create a beautiful stone or Brick Backdrop for your grill, with custom lighting to set the mood. You'll feel like you're dining at a five-star restaurant every time you step outside.
And let's not forget about the added value to your home. An outdoor kitchen is a major selling point for potential buyers. It's an investment that will pay off in the long run. Plus, you'll get to enjoy it yourself in the meantime. We truly are an Outdoor Living Contractor… We build Patio, Pool Deck, Retaining Wall, Driveway, Everything Outdoor!
Call Us today for a friendly chat!!
Request A Free Instant Quote
Elevate your Outdoor Living Experience with a Thoughtfully Designed Kitchen
While each outdoor kitchen is unique, the construction process is relatively uniform whether it's built out of wood or block or even a framework kit. However, there are many hidden factors that come into the creation of an expansive Satellite Outdoor Kitchen that can have a big impact on how long it takes to build and whether or not there are specialties that demand a variation in the process.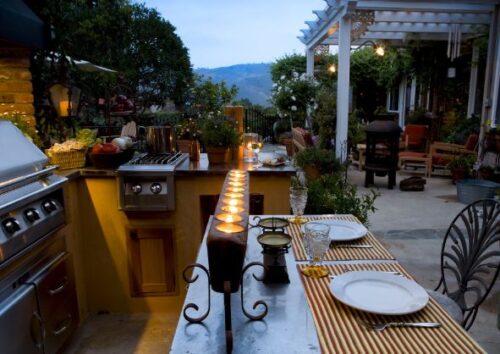 Outdoor Kitchen Builder: Creating Your Oasis
But what about the weather, you might be thinking. Not to worry. Kelowna Pro Masonry can create a covered area for your outdoor kitchen, complete with a ceiling fan to keep you cool on those hot summer days.
And if you're worried about the maintenance, KPM has got you covered. They use durable materials that are easy to clean and maintain. Plus, they offer regular maintenance services to ensure your outdoor kitchen stays in top shape for years to come.
But it's not just about the kitchen itself. It's also about the accessories. Kelowna Pro Masonry can install a sink, refrigerator, and even a pizza oven. The possibilities are endless.
And let's not forget about the landscaping. Kelowna Pro Masonry can create a beautiful outdoor oasis around your kitchen, with lush greenery and a bubbling fountain. You'll feel like you're on vacation every time you step outside.
But what about the cost, you might be wondering. We offers competitive pricing for their services, and they work with you to create a custom plan that fits your budget. Plus, with the added value to your home, it's truly an investment worth making.
And let's not forget about the peace of mind that comes with hiring a professional. Kelowna Pro Masonry has years of experience in creating beautiful outdoor spaces, and they use only the highest quality materials. You can rest assured that your outdoor kitchen will be built to last.
So what are you waiting for? Contact Kelowna Pro Masonry today to start creating your dream outdoor kitchen. You'll wonder how you ever lived without it.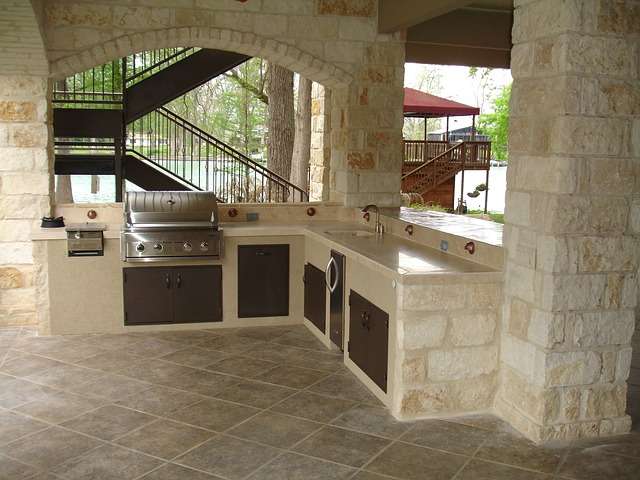 Why Having an Outdoor Kitchen?
They say that the kitchen is the heart of a home, you can create your own backyard oasis. An outdoor kitchen offers endless possibilities for entertaining family and friends while enjoying nature's beauty in all its glory. With the right appliances and accessories, your outdoor space can become a destination to be enjoyed year round.
Building an outdoor kitchen isn't just about adding some extra cooking space – it's also about creating a unique living experience. From Grilling on summer nights to gathering around a fire pit during winter months, it increases the value of your property by transforming unused land into usable space. 
And as any experienced homeowner knows, there are few better investments than real estate. So why not turn those dreams of a backyard paradise into reality? Working with Professional Contractors will help ensure that your new outdoor kitchen meets all safety standards and stands up against extreme weather conditions for years to come.
Outdoor Kitchen Design Ideas
Having an outdoor kitchen is a great way to enjoy the outdoors and entertain friends and family. With so many design options available, it can be difficult to decide how to best maximize your outdoor living space. However, with careful consideration of factors such as layout, materials, appliances and more, you'll be able to create the perfect outdoor kitchen for your needs.
Below are some design considerations that should be taken into account when planning out your outdoor kitchen:
– Layout: Consider the size of your space and what type of layout will work best for entertaining guests. For smaller spaces, consider creating an Outdoor Kitchen Island or using rustic kitchen ideas like repurposed pallet wood furniture.
– Materials: Think about which materials would work best in your environment based on climate concerns and aesthetics. Will you use brick, stone or other masonry? What kind of Countertops do you want?
– Appliances: Make sure you choose quality products that won't break down easily due to wear and tear from heat or cold temperatures. You may also want to look into special features such as built-in grills or refrigerators specifically designed for outdoor use.
– Lighting: Add lighting fixtures around the area to create ambiance after the sun has set. Also think about adding Task Lighting near countertop areas if they are too dark while cooking at night.
Once all these items have been addressed properly then its time to start thinking about what appliance accessories might need added such as a sink, bar seating or additional storage cabinets for utensils and cookware. Kelowna Pro Masonry has the right team to help you design everything!! Call Us Today!
What is the average cost?
The average cost can vary greatly depending on the size, materials and complexity. Generally speaking, a basic setup with simple pre-built cabinets and countertops could cost anywhere from $5,000 to $15,000. If you're looking for something custom or higher-end, then expect to pay upwards of $20,000 or more. It's important to remember that this is just an estimate; there are many factors to consider when planning your outdoor kitchen project so be sure to consult with a professional before getting started
Experience the Ultimate Fusion of Nature and Gastronomy with an Exquisite Outdoor Kitchen.
Kelowna Pro Masonry, the Outdoor Kitchen Contractor, is the master of transforming backyards into culinary havens. With our expert craftsmanship and attention to detail, we create outdoor kitchens that are both functional and stylish.
Imagine hosting a summer barbecue with friends and family, grilling up mouthwatering burgers and sizzling steaks on a state-of-the-art outdoor grill. The aroma of delicious food fills the air as you gather around a beautifully designed countertop, sipping on ice-cold beverages.
And let's not forget about the cozy seating areas. Kelowna Pro Masonry knows that a great outdoor kitchen is not just about the food, but also about creating a welcoming atmosphere. They can design and build comfortable seating areas, complete with fire pits or outdoor fireplaces, where you can relax and enjoy the company of your loved ones.
So why wait? Take your backyard to the next level with Kelowna Pro Masonry. Contact Us today and start planning your dream outdoor kitchen. Your friends and family will thank you for it.