Your Patio Installation Expert
Summer is just around the corner, and you're starting to feel the pressure of not having a nice area to hang out with your friends and family. You've been considering adding a paver patio to your backyard, but you're not sure where to start.
Luckily, you don't have to do it alone. A Professional Paver Patio Contractor can help you design and install the perfect patio for your needs. At Kelowna Pro Masonry, we specialize in creating beautiful and functional outdoor spaces that will enhance your home's value and your quality of life.
A raised paver patio is a great option for those who want to create a more elevated and Elegant Outdoor Space. With a raised patio, you can create a seamless transition from your indoor living space to your outdoor oasis. It's perfect for hosting outdoor dinner parties or just relaxing with a good book on a warm summer day.
At Kelowna Pro Masonry, we take pride in our attention to detail and our commitment to quality. We use only the best materials and the latest techniques to ensure that your Brick Patio Construction will look great and last for years to come.
Don't let another summer go by without a beautiful outdoor space to enjoy. Contact Kelowna Pro Masonry today to schedule a consultation and get started on your dream patio. With our expertise and your vision, we can create the perfect outdoor space for you and your family to enjoy for years to come.
Request A Free Instant Quote
Benefits of Installing a Paver Patio
The Aesthetic Appeal of a paver patio is undeniable – it can transform any outdoor space into a beautiful area for entertaining. Plus, it's low maintenance – no need to worry about constant upkeep! This is what your Patio Paver Company can do for you!
Making a patio with pavers can turn your yard into an oasis of beauty. You can choose from many different colors and styles that will create the perfect aesthetic for your outdoor space. Not to mention, you get the added benefit of choosing materials that are durable and long-lasting. With all these options available, you're sure to find something that fits both your taste and budget. And it'll be a great way to add value to your home!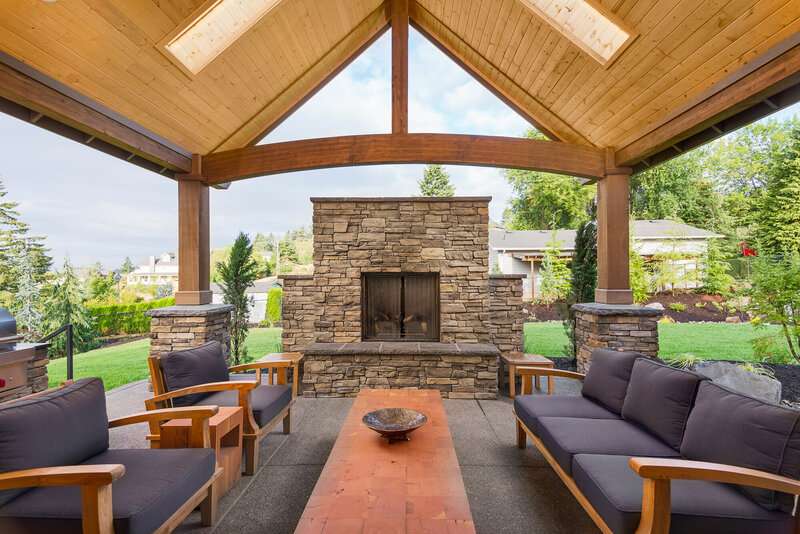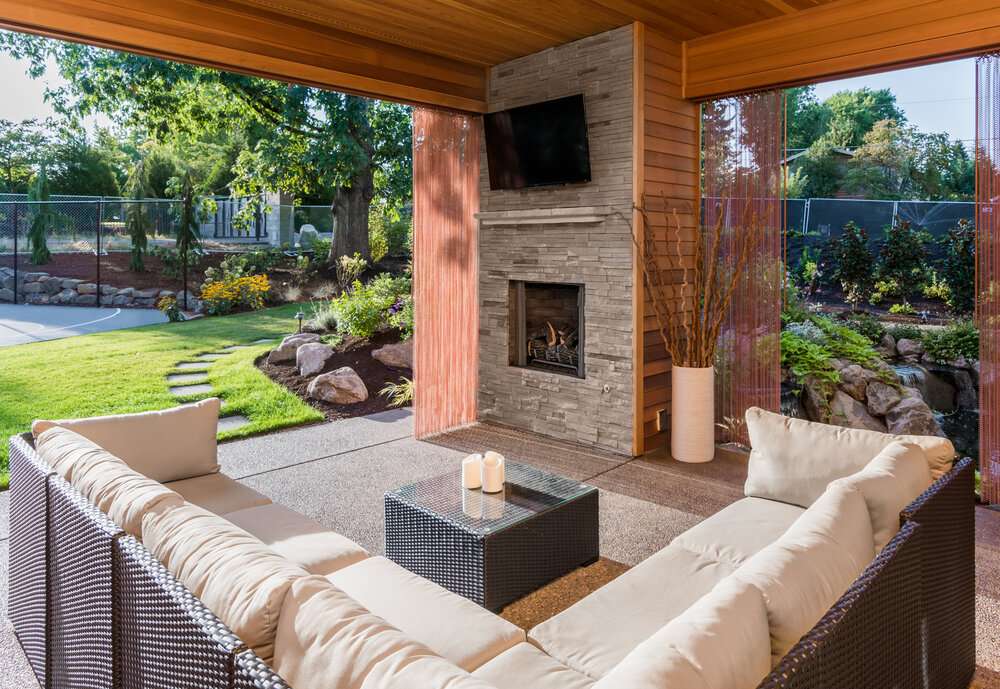 One of the best things about installing a paver patio is that it requires very little maintenance. Paving stones are designed to be durable and weather resistant, so you won't have to worry about them cracking or fading in harsh climates.
Additionally they're easy to clean—all you need is some soap and water! So no matter what kind of lifestyle you lead, your Brick Patio Construction will stay looking great with minimal effort on your part.
Adding a patio to your home can make outdoor entertaining so much more enjoyable. You and your guests will love the extra space for grilling, dining, or just lounging in the sun. Not only does it give you an opportunity to spend time outside with family and friends, but it also increases the value of your home too! Whether you're planning on selling soon or not, adding a patio is always worth considering – who wouldn't want their own personal oasis?
Beyond adding to the value of your home, but it can also make your house much more attractive from the outside. Adding beautiful landscaping around the edges will give any property instant curb appeal and draw attention in all the right ways. With some strategic plants, flowers, or even trees you can really take advantage of that extra outdoor living space and make a statement with great visual impact. This is especially important when you're trying to sell – potential buyers are always impressed by a well-maintained exterior!
Increasing The Value Of Your Home
After all the previous benefits cited, adding a patio in your backyard can really improve the value of your home. Increasingly, having a paver patio builder install it for you ensures a professional job that will last for years and Kelowna Pro Masonry is the right guy for planning and building your patio!
Several Type of stones can be used for your patio. They come in different sizes and shapes. Talk to our manager if you don't know yet which one you prefer. We'll be able to guide and make the right choice for you. That's why we think we are one of the best patio builder in the region!
Flagstone – This flat stone comes in different shapes and sizes for an eye-catching look.
Pavers – Pavers come in many designs, textures, and colors which can give your patio a custom aesthetic.
Gravel – For those wanting something more rustic, gravel can provide an inexpensive option with almost limitless design options.
Bricks – Clay bricks have been around for centuries, giving patios an old-world charm yet remaining extremely durable.
Concrete Slabs – These slabs are easy to install and maintain, providing a modern look at an economical price.
It is commonly said that the ground must be level and clear of debris before laying any paver stones, but what does this really mean? To better understand how to properly prepare a ground for a patio, it's useful to look at the following table which outlines the steps involved:
 (1) Clear the area from all vegetation or objects
 (2) Level out soil with rake or shovel 
 (3) Compact earth using tamper tool 
 (4) Add gravel and sand layer on top  
The most important part in preparing your ground for a patio is making sure you have leveled off the earth so that it can provide a good base. Additionally, by compressing the soil with a tamper tool you are further ensuring stability. With these simple steps done correctly, you will have successfully prepared your ground for designing and laying down your paver stones.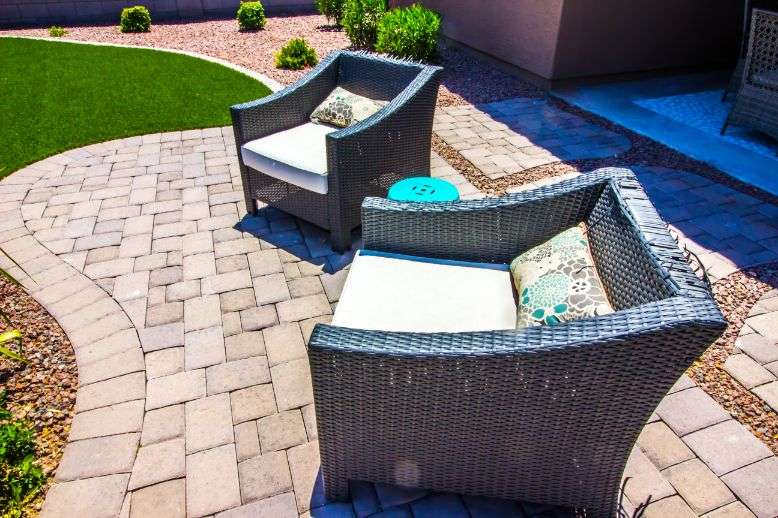 Designing And Laying The Paver Stones
The next step in building your paver patio is designing and laying the stones. The key  is to ensure that you have a plan for how you will lay out the pavers and what pattern they should form.
To make sure this part goes smoothly, there are three important steps:
1. Gather all necessary materials like sand, pebbles, gravel, bricks, and more.
2. Use chalk or string to mark the area where the brickwork will be laid so it's even and level.
3. Place each stone carefully using a rubber mallet if needed to secure them into place.
Once these steps are complete, we move on to adding finishing touches for a perfect patio!
Finishing Touches for A Perfect Patio
Creating a stunning patio requires more than just laying paver stones. After the stones have been laid, it's time to complete the job with some finishing touches that can make all the difference.
Choosing a Classic Brick Pattern design for their new patio and used accent lighting in strategic locations to highlight certain areas for added visual interest. To further add warmth and coziness, we can incorporated several seating options along with an outdoor fireplace perfect for roasting marshmallows or gathering around during cooler nights. With these extra elements in place, KPM creates an inviting atmosphere where you relax together as a family after a long day.
Best Patio Builder in Kelowna
We are highly confident that we are able to achieve the desired outcome efficiently so you can move on from the construction inconvenience and be able to enjoy your dream backyard! Call Kelowna Pro Masonry  today just for a formal talk so we can guide you and line out your ideas and the cost of your patio project!