Pool Deck Builder Expert Kelowna, BC
Stepping out onto your pool deck and take a deep breath. The sun is shining and the water is sparkling. You can feel the warmth of the sun on your skin and the coolness of the water on your toes. It's a perfect day for a swim.
As you walk around the deck, you notice that it's starting to show its age. The wood around the hot tub is faded and splintered, and there are cracks in the concrete. You know it's time for a change.
That's where we come in for the home owners with plentiful of Custom Deck Design Ideas. We'll contribute and come up with awesome Pool Deck Ideas! We specialize in transforming pool decks into beautiful, functional spaces that you'll love spending time on, Let's go after your dream deck!!
Pool Renovation And Pool Deck Repair
KPM repair any cracks in the concrete, perform pool deck resurfacing, and apply a decorative overlay to the deck boards give it a fresh, modern look. Concrete Pool Repair is our bread and butter and ideal for a budget.
Once the work is complete, you'll be amazed at the transformation. With our deck design, your deck will look like new, and you'll be proud to show it off to your friends and family. You'll be able to relax and enjoy your outdoor space without worrying about splinters or cracks.
So why wait? Give us a call today and let us transform your pool deck area into the oasis you deserve and bring the enjoyment factor back!
Request A Free Instant Quote
Pool Deck Installers At Your Service
If you're looking to transform your outdoor living space into a luxurious oasis, look no further than Kelowna Pro Masonry.
Stones, and pavers are reliable options to construct your backyard or pool deck. Many people use flagstone to create an outstanding deck design. Flagstone is more appealing to the eye. Thanks to their unique patterns, they look amazing everywhere. On the other hand, bricks and pavers are reliable.
An outdoor patio may sound expensive, keep in mind that it is a long-term investment. Using reliable materials and a reputable Masonry Contractor in Kelowna will save you a lot of costs. 
Ideally, walkways are durable and sustainable as in stone patio walkways – a structure whose performance is enhanced only by the lighting posts. Together, they contribute to the nighttime ambiance of your outdoors.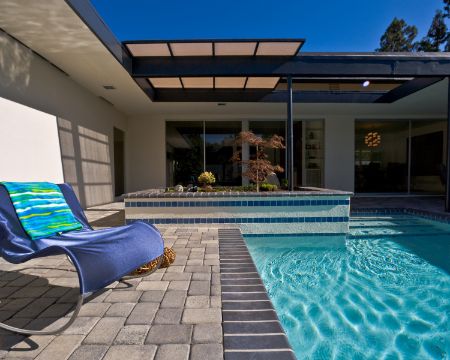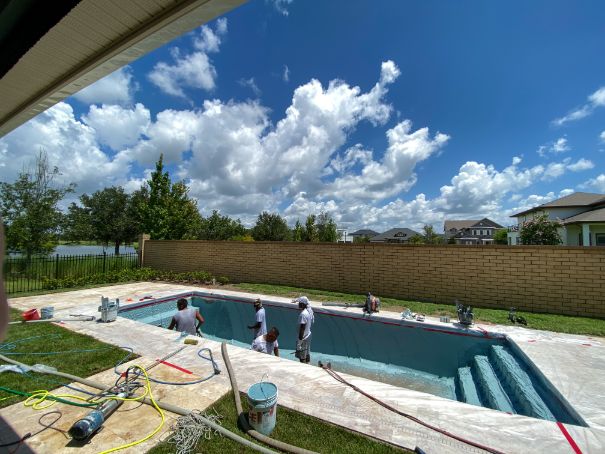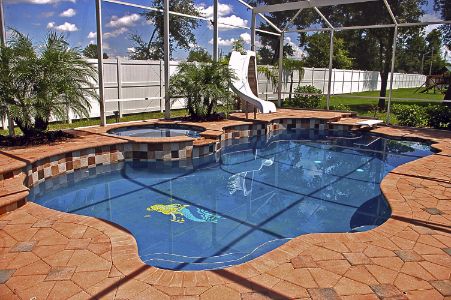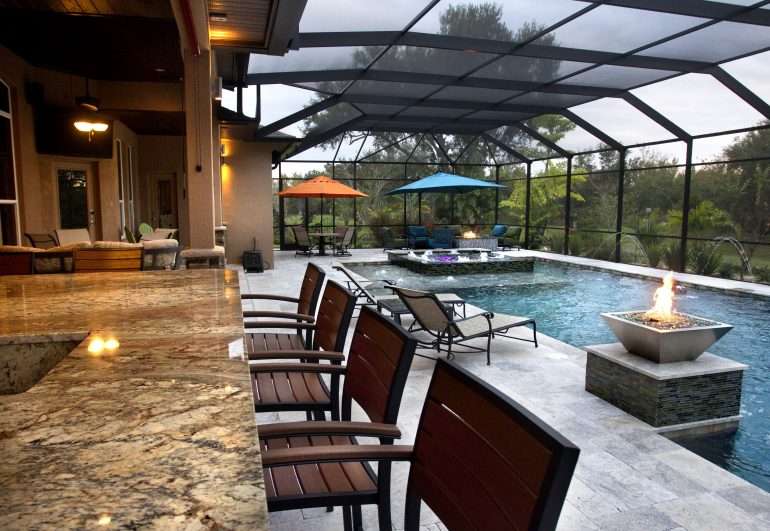 The Right Material to Build your Dream Pool Deck
At Kelowna Pro Masonry, we are committed to providing quality construction that meets and exceeds our customer's expectations. KPM takes pride in our attention to detail, employing the highest standards of craftsmanship and excellence throughout every step of the process.
We implement a comprehensive approach to building: using the best quality materials; closely monitoring for signs of wear or damage during construction; and finally, following up with regular maintenance after completion. This conscientious effort towards creating durable outdoor living spaces is what sets us apart from other Pool Deck Contractors. Choosing the right materials for a deck is critical to ensure safe, durable construction. It requires careful consideration of factors such as longevity, aesthetic appeal, cost, and maintenance needs. To that end, here are four key components to bear in mind when selecting appropriate materials:
1. Durability – Selecting a material that can withstand extreme weather conditions and heavy foot traffic will extend the life of your deck and help prevent costly repairs or replacement down the road.
2. Aesthetic Appeal – Opt for materials that match your existing landscape design while also providing visual interest and charm to your outdoor space.
3. Cost – Compare different options available in terms of initial investment as well as long-term maintenance costs before making a selection.
4. Maintenance Needs – Choose a material that has minimal upkeep requirements while still maintaining its original look over time.
With these considerations in place, you can ensure you make an informed decision on the right material for your project and create a beautiful deck design that stands the test of time.
Moving forward, it's essential to ensure quality construction by implementing proper installation techniques fit for local building codes for each project and individual application.
Your Pool Deck: Your Choice Of Paver Style
When it comes to your deck, you have a vast selection and features of paver styles to choose from! You can easily tailor the look and feel of your outdoor living with an array of shapes, colors, patterns and textures.
Here are just some of the exciting options available:
– Interlocking Pavers – Offering superior strength and durability for high-traffic areas above ground pool decks, interlocking pavers come in many sizes and hues that add unique character to your deck.
– Granite Pavers – Granite is among the most durable stones available, making it ideal for applications such as driveways, pools or pathways that require extra support. It's also low maintenance which makes it perfect for busy families who don't want too much upkeep on their backyard oasis.
– Cobblestone Pavers – Cobblestones give off a classic charm while still providing plenty of stability. Their rustic appeal adds instant style to any landscape design without having to break the bank.
– Flagstone Pavers – Flagstones bring a natural beauty with its earthy tones, creating an inviting atmosphere on ground pool decks around your decking area that will make everyone feel relaxed and welcome at your house. Plus they're easy to install due to their flat surface structure so you won't need a professional contractor unless you want one!
– Concrete Pavers – Concrete pavers are affordable yet very hardwearing and long lasting; perfect for those looking for a quality finish within budget constraints. With various designs available there's something here for every taste!
Water and Moisture Resistant
Natural wood is usually the first choice for outdoor decks because it is affordable and easy to buy. But as a pool deck, traditional wood decking is not so suitable. In addition to the possibility of cracking the deck to cause harm to humans. Wood decking does not have good moisture resistance. Using it as a concrete pool deck renovation not only takes a lot of time to maintain each year but also raises the cost of subsequent maintenance.
Maximizing Durability And Longevity
At the completion of your deck installation, you want to be sure that it lasts as long as possible. That's why you should use quality materials and take care when installing them. Good sealants and protective coatings can help protect your new deck from water damage and UV rays, while proper maintenance will also help keep it looking like new for years to come. Now let's dive into relaxation: how to maintain your swimming pool deck.
Don't Let a Damaged Pool Deck Ruin Your Fun: Our Paver Repair Services
When it comes to pool decks, you want your backyard oasis to be a relaxing and inviting atmosphere that adds joy and beauty to your home. But when the your deck is damaged or in disrepair, it can take away from what should be an enjoyable experience. That's why we offer our repair services so that you don't have to let a damaged deck ruin all of the fun!
Below are some of the services we provide:
Service:  Crack Repairs  | Fixing existing cracks in concrete. Call For Pricing.
                 Re-sealing   | Sealing surfaces against water damage. Call For Pricing.
                 Overlays   | Adding texture/design with cement material. Varies depending on type.
At KPM, we understand how important it is for your outdoor space to reflect your individual style. With many paver styles available – including brick pavers, flagstone pavers, travertine pavers, natural stone pavers and more – you can get creative by mixing and matching the different types of colors and textures to create a unique look for your pool deck. So no matter what kind of repairs you need on your pool deck, make sure you choose the best option for yourself.
What Kind Of Maintenance Is Required For My Pool Deck?
Maintenance of a pool deck requires vigilance and regular upkeep to keep it in pristine condition. It's like the saying goes – an ounce of prevention is worth a pound of cure!
To prevent future problems, make sure you are regularly checking for signs of wear-and-tear such as cracked or sunken tiles, loose screws and nails, or any other type of damage that could be caused by weathering. Additionally, sealing your pool deck at least once every two years will help protect it from long term damage. With these simple steps, you'll ensure that your pool deck remains safe and attractive for many summers to come!
Best Pool Deck Builder in Kelowna
At Kelowna Pro Masonry, we deliver exceptional results that exceed our clients' expectations. From the initial design consultation to the final installation, our team works closely with you every step of the way to ensure your pool patio is exactly what you envision. We understand that every homeowner's needs are unique, which is why we offer a range of customization design options to make your Pool, Decking and Paver Construction truly one-of-a-kind.
And don't worry about maintenance or insurance coverage – I guarantee our team will have your back every step of the way. So if you're looking for an awesome new pool deck to show off to your friends and family this summer, come check us out! Check Our Driveway Paver Page as well.
What more could you ask for? Call Us Today a an entirely Free Consultation with our Pro Team!!